The purpose of this consortium is to inform and develop effective interventions and treatment approaches for Fetal Alcohol Spectrum Disorders (FASD), through multidisciplinary research involving basic, behavioral and clinical investigators and projects. We hope to develop an infrastructure to foster collaboration and coordinate basic, clinical and translational research on FASD.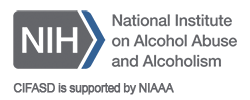 CIFASD investigator, Dr. Christie Petrenko, holds a podcast entitled "From Surviving to Thriving with FASD" at fasdhope.com.
Read more
From Surviving to Thriving FASD
CIFASD investigators identify potential blood markers for fetal alcohol spectrum disorders. Drs. Rakesh Miranda and Christina Chambers find that a blood test that may help predict how severely a baby will be affected by alcohol exposure during pregnancy.
Read more
CIFASD Investigators Identify Potential Blood Markers
FASD research, including work by CIFASD investigators is highlighted in the latest NIAAA Spectrum.
Read more
NIAAA Spectrum: Advances in Research on Fetal Alcohol Spectrum Disorders
Research by CIFASD investigator, Christina Chambers, suggests that COVID-19 is not likely transmitted through breast milk.
Read more
Is COVID-19 Transmitted Through Breast Milk?
Study Suggests Not Likely
This award recognizes Dr. Foroud's professional efforts which have broadened the reach of IU around the state of Indiana, the nation, and the world. In addition, Dr. Foroud was recently named Executive Associate Dean for Research Affairs.
Read more
Dr. Tatiana Foroud, CIFASD Researcher, Is Awarded the Prestigious Indiana University (IU) Bicentennial Medal Honoring Distinguished and Distinctive Service
CIFASD investigators Christie Petrenko and Christian Tapparello create the first mobile app for caregivers of children with FASD.


Read more
New Mobile App for Caregivers of Children With FASD


The study is enrolling adults and children with prenatal alcohol exposure or an FASD diagnosis. Everything is done online. Participants receive a $50 gift card for providing a little information about themselves, some facial photographs, and a saliva sample.


Read more
CIFASD Research Study: Dissecting the Genetics of FASD (DiG FASD)


Parnell identified a mechanism through which cannabinoids can interact with ethanol. These findings have important implications for co-exposure to prenatal alcohol and cannabis.


Read more
Scott Parnell, CIFASD Investigator, Find That Cannabinoids Exacerbate Prenatal Alcohol Effects


Michael Charness, CIFASD Scientific Director, shows that neuroprotective peptides may block ethanol's effects on L1 cell adhesion molecules. These findings have important implications for interventions that may protect the fetus from prenatal alcohol exposure.


Read more
Neuroprotective Peptides May Block Ethanol's Effects on L1 Cell Adhesion Molecules


Listen to Fetal Alcohol Spectrum Disorder with Dr. Jeffrey Wozniak on NavNeuro.com.


Listen to podcast
CIFASD investigator, Dr. Jeff Wozniak, Discusses FASD in Navigating Neuropsychology Podcast


Drs. Joanne Weinberg and Christina Chambers report that alcohol use during pregnancy can affect a woman's immune system in ways that may predict her child's neurodevelopmental outcome. Specific changes in a mother's immune system can also serve as an indicator of prenatal alcohol use.


Read more
CIFASD Investigators' Research Shows Mother's Immune Profile May Influence Prenatal Alcohol Exposure Outcome


PBS NewsHour Focuses on FASD:
Fetal alcohol spectrum disorders are more common than you think.


Read more
CIFASD Investigator Dr. Jeff Wozniak Meets with the PBS Team


A major new study out of the US, as well as a subsequent Canadian study, show FASD affects between one and five per cent of children. That means FASD is more common than Down syndrome and as common or more common than autism. Dr. Joanne Weinberg, a neuroscientist who studies FASD, says the new prevalence estimates are highly significant.


Read more
Fetal Alcohol Syndrome somtimes misdiagnosed and under-reported due to stigmas around drinking


CIFASD investigators developed a decision tree using a very small number of variables that accurately identified alcohol affected children. The decision tree was tested on children in 2 age groups (5-7 years and 10-16 years) and overall accuracy for identifying individuals who had been exposed to alcohol prenatally was 80% or greater.


Read more
Investigator Creates a Simple Screening Decision Tree for Identifying Individuals with FASD

Forty-three year old with FASD has the developmental age of a first-grader. Her mother drank while pregnant, unaware of the risk of fetal alcohol syndrome.

Read more
Mother Warns of Consequences of Drinking Alcohol While Pregnant
The CDC released new guidelines urging women of childbearing age to avoid drinking alcohol unless they are using contraception. This new guideline is designed to prevent fetal alcohol spectrum disorders (FASD). FASD is a 100 percent preventable condition.

Read more
Is It OK To Drink Alcohol While Pregnant? 10 Things You Should Know
In an effort to once and for all put a rest to any debate about drinking during pregnancy, the American Academy of Pediatrics has put out a clear message: Don't do it. Ever. At all. Not even a tiny bit. "No amount of alcohol should be considered safe to drink during any trimester of pregnancy," the group wrote.

Read more
No Alcohol during Pregnancy – Ever – Plead U.S. Pediatricians
The award recognizes a senior researcher who has made outstanding scientific contributions to alcohol research and have a substantial record of publication in the field.


Read more
Dr. Tatiana Foroud, CIFASD Investigator, Is Recognized as the RSA Distinguished Researcher Award for Her Work on Alcohol and Genetics


News