Research Studies:

My Health Coach App for Adults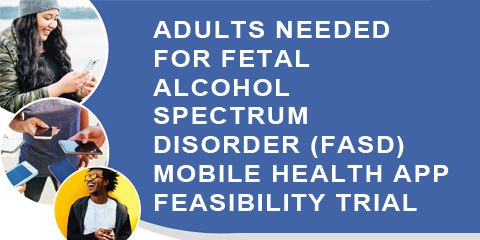 What is the My Health Coach App?
My Health Coach is a smartphone app developed for adults with Fetal Alcohol Spectrum Disorder (FASD) or Prenatal Alcohol Exposure (PAE). The My Health Coach app aims to provide adults with FASD or PAE evidence-based information about their condition and tools to promote their self-management and health advocacy goals.
What is Involved in the Study?
Adults with FASD get to try out the My Health Coach app on their phones for 6 weeks. They will be asked to do some surveys online before trying the app and again 6 weeks later. This will help us learn if people like the app and if it is helpful.
Who Can Participate?
Adult with FASD or history of prenatal alcohol exposure
Age 18 years old or older
Speaks English anywhere in World
Please view the My Health Coach Study Flyer before visiting the Study Information Sheet for more information.